About the State of Utah
Utah, a name that comes from the Native American Ute tribe meaning "people of the mountains", has a population of just over 2 million people. Today, excellent recreational opportunities along with a good business environment maintain Utah's rich heritage.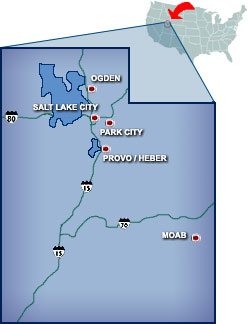 Indian tribes included the Ute, Southern Paiute, Navajo, Gosiute, Northern and Eastern Shoshone who lived similar lifestyles by hunting, fishing and gathering wild plant foods. Early Mexicans and Spaniards were the first non-Indians to visit Utah to trap beaver and otter for fur. But it was the small group of pioneers led by Brigham Young in 1846, who would make the greatest mark on the future state of Utah.

Following the establishment of Bountiful, Utah, Young and his followers expanded to 500 settlements between 1847 and 1900. Hunting, fishing and agriculture sustained the small communities until the coming of the railroad in 1869 changed the West forever. Mining became the major economic resource in the late 1800's and between 1860 and 1900 the population of Utah jumped from 40,000 to 200,000 people. Utah was accepted into the Union in 1896. Utah's economy expanded to include recreation and high tech industries in the late 1900's.

At the heart of the development of Utah has been the faith that first brought the pioneers to the area. The Church of the Latter Day Saints (Mormons) has remained the most powerful decision-making body in the area and anyone visiting Salt Lake City will enjoy the beauty of the famous Mormon Temple and hopefully, the voices of the Mormon Tabernacle Choir.

The 2002 Winter Olympics will feature events in Salt Lake City, Ogden and the surrounding ski resorts of Park City, Deer Valley and Snowbasin Ski Area.


Facts, figures and maps of Salt Lake City and Utah.


History of Salt Lake City and Utah

Virtual Tours
Don't just read about Salt Lake City and Utah, see it! Visit the city and explore the sites of the Olympic Games on these virtual tour sites.

Weather
What's the weather like in Salt Lake City? Search these weather sites for competition conditions.