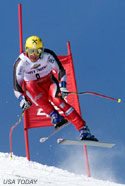 Competition
Alpine skiing is among the most exciting Olympics events and was introduced to the Olympic program at the 1936 Garmisch-Partenkirchen Games with a men's and women's combined event, featuring a downhill and two slalom runs. After the cancellation of the following two Games because of war, alpine skiing returned to St. Moritz with a program of six events. The Oslo Games in 1952 welcomed giant slalom to the program and marked the departure of the combined event. The combined event did not return until 1988.
The 2002 Winter Olympic Games will host 10 alpine competition events (Downhill, Super-G, Giant Slalom, Slalom and Combined) - five for women and five for men. The rules are the same for men and women, but the courses differ. In all cases, time is measured to .01 seconds and ties are permitted.

Interesting Facts
The United States Ski Team is headquartered in Park City, Utah, with a full time staff of more than 100 coaches and administrators and with four field offices around the USA.
Competitive racers starting position relates to their predetermined skill level. This is called "seeding." Each event tests competitors' skills at different speeds.
A country may enter up to four skiers per event. The total size of the team may not exceed 22, with no more than 14 of either gender.
American skier, Picabo Street completed an amazing comeback by winning Olympic gold in the Super-G in 1:18.02, one-hundredth of a second faster than Austrian Michaela Dorfmeister. She was suffering from headaches from her concussion nine days earlier, when, traveling at 75 mph, she lost a ski and crashed into the safety netting.
To Learn More About Alpine Skiing